As a part of their summer forecast series ESPN.com recently asked their NBA panel to pick the 2012-2013 NBA champion. Despite asking 100 panelist only three different team names were submitted – the Miami Heat, the L.A. Lakers, and the Oklahoma City Thunder. While Celtics101 takes no issue with these selections as there is a good chance that one of these teams takes home the hardware at the end of the year, the idea that no other team will even threaten these three powers is absurd. The Heat and Thunder met in the finals last year, so expecting them to get back after returning the same roster is reasonable, and it's hard not to like the Lakers after the moves they made this offseason. However numerous teams have made significant improvements this offseason, not just L.A., so assuming that the title chase is a three horse race is ridiculous. Both conferences are stacked with contenders, some of whom are outlined here.
Eastern Conference
It is generally accepted around the NBA that in the Eastern Conference is Miami and then everybody else. However while the Heat, having just won a championship, are certainly the favorites to come out of the east again in 2013, the drop off is not nearly as significant as many think. There are a number of teams in the east gunning for the Heat's title.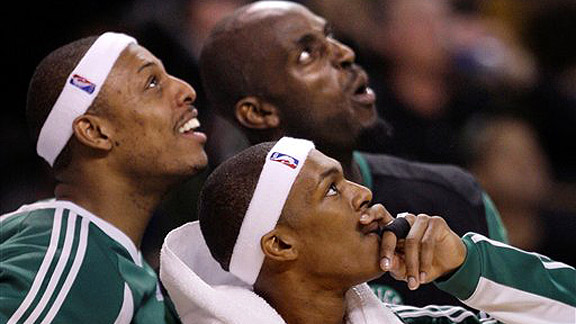 #1 The Boston Celtics
This point has been beaten into the ground, but the Celtics did take the Heat to seven games last season with a roster that was decimated by injuries. Forget the players the Celtics actually lost (Avery Bradley, Jeff Green, Chris Wilcox) Paul Pierce was battling a strained MCL, Ray Allen wasn't even close to 100 percent thanks to bone spurs in his ankles, Mickael Pietrus was playing with a knee that required offseason surgery, Greg Stiemsma was playing on a broken foot. If any of these players were even a little healthier, if Pierce and Allen had been healthy enough to hit just a few more jump shots, this series would have been different. Sure the Heat got better in the offseason by swiping Ray away from Boston, but the Celtics are a vastly deeper team going into the 2012-2013 season. Injuries and lack of depth made the Celtics offense pretty limited last year as they really weren't operating with a whole lot of weapons. They have since added Jason Terry, Courtney Lee, Jeff Green, Jared Sullinger, and Chris Wilcox. Add that to the fact that the Heat still have no idea how to defend Rajon Rondo and the Celtics could easily knock the Heat off their pedestal.
#2 The Chicago Bulls
Everyone is writing off Chicago because of Derek Rose's injury. While the Bulls certainly are not a contender without Rose, he is not going to be out indefinitely. This team managed to post the best record in the east without him last year, so they'll be able to remain in the hunt until he gets back this year. Now how serious to take the Bulls really depends on how Rose looks when he does return. If he immediately regains his 2011 league MVP form then the Bulls are automatic title contenders. However that may not happen immediately. It may not happen this year. It may not happen at all, but who knows. Medical science has come a long way so there is nothing saying that Rose wont make a full recovery and terrorize the league once again in the second half of the upcoming season. The Bulls have a great supporting cast and one of the best coaches in the business. If Rose can regain his health they are a threat.
#3 The Indiana Pacers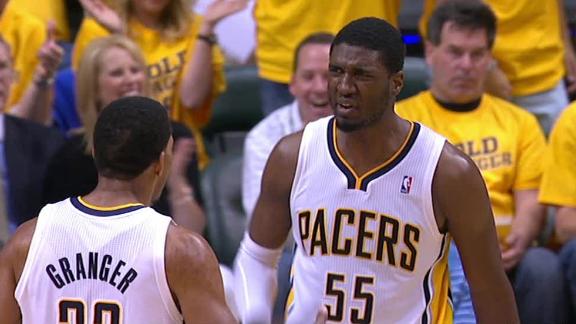 Yes the Pacers lost to the Heat last year, but the Heat didn't really beat them, they more beat themselves. Throughout the series Roy Hibbert and David West destroyed Miami in the post, but every time this started working and Indiana started getting some momentum Danny Granger and Paul George would hoist up three or four boneheaded shots in a row and Miami would get momentum right back. If the Pacers could have just been smart they easily could have beaten Miami last season. Sure the Pacers didn't have the greatest offseason. Trading Darren Collison for Ian Mahinmi really didn't make any sense. Collison lost his starting spot to George Hill last year, but he's still the better point guard of the two. However Indiana's year of playoff experience may do them a world of good and offset the minor loss that Collison is. Hibbert probably wasn't assertive enough in that second round series versus the Heat. A year later with a new contract he will probably demand the ball more and more. If the Pacers had pounded Miami inside last season the way they are capable of that series was theirs. Don't expect them to make the same mistake twice.
#4 Philadelphia 76ers
The wild card of the Eastern Conference. No one knows how good the Sixers will be next season primarily because no one knows which Andrew Bynum will show up on any given night. If the change of scenery from L.A. to Philadelphia causes Bynum to consistently be the dominant force that he can be, then Philadelphia is a team to be reckoned with. If not, they probably went backwards this offseason. Sure they added the second best center in the game, but they gave up their best player Andre Iguodala and also lost bench scorer Lou Williams starting power forward Elton Brand. Adding Bynum helps, but he's such an enigma that it's hard to know how much. He's only a great player some of the time. For Philadelphia to be great he has to be great all the time. However the Sixers also made a few other under the radar moves that will really improve their roster. Giving up Brand looks like a loss, but his leaving opens up space for second year man Lavoy Allen, who looks ready for a break out season if his playoff performance is any indicator. Adding Nick Young was also a shrewd move. No one can think of Young without remembering the knucklehead from Washington, but he had a great season after being traded to the Clippers. If he can realize the potential that has always been there then the Sixers suddenly have a very scary roster.
#5 The New York Knicks
The chances of the Knicks getting out of their own way for long enough to actually win a playoff series are extremely low. However there is a saying "never sleep on talent," and whatever their other faults the Knicks are talented. Carmelo Anthony, Amar'e Stoudemire, and Tyson Chandler? That is a really really good front court. Add in Jason Kidd and Ray Felton at the point guard spot and this team has the talent to match up with anybody. What they need is to finally figure out how to play together. That doesn't seem particularly likely as Anthony in particular has never been a team player, and there are major questions about Stoudemire's health, but stranger things have happened. With new coach Mike Woodson getting this team to buy into defense and actually focus on getting stops the Knicks have taken the first step towards contention. They have all the talent any team could want. If they can put it all together they are suddenly a huge threat.
Part 2 – Western Conference – Coming Monday
Tags:
Basketball
,
Boston
,
Boston Celtics
,
NBA