After stealing a win with a strong second half Saturday night against the Milwaukee Bucks, the Boston Celtics moved to 2-0 on their two game road trip when they beat the Chicago Bulls 101-95 Monday night at the United Center. Rajon Rondo scored 20 points to lead five Celtics in double figures, and added 10 assists and 9 rebounds to just miss a triple-double. The Celtics were fantastic in the first half, dropping 58 points on Chicago by shooting 60 percent with only two turnovers. However the Celtics shut down in the fourth quarter, allowing Chicago to close to within three multiple time. But Rondo found Kevin Garnett for two alley-oops to preserve the Celtics win. The Celtics are now over .500 for the first time this year, and with a strong second half against Milwaukee and nice win over Chicago things finally seem to be falling into place.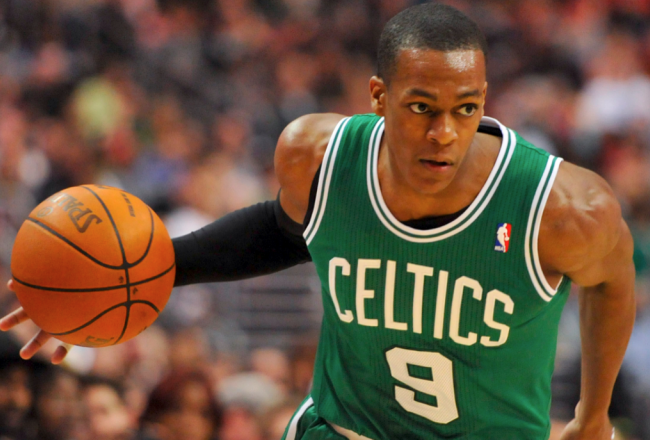 Turning Point I
The Celtics had a comfortable lead for practically the entire game thanks to a fantastic first half. However much has been made of Boston's struggles with leads and deservedly so. The Celtics had this game well in hand going into the fourth quarter, but they just decided to stop running their offense. They went 5:13 without scoring, allowing Chicago to close within three, and it really wasn't surprising. Boston just kept shooting jump shots and kept missing. However, despite the offense falling apart, the Celtics kept getting stops and wouldn't let Chicago move into the lead. Then Jason Terry finally ended the drought by knocking down a couple shots. They were jumpers too but this time the Celtics actually ran a play, getting Terry a good shot instead of Paul Pierce or Kevin Garnett just hoisting up a contested jumper as the shot clock expired. The Celtics defense saved them, buying them time until Terry checked back in and restored order.
Lineup Changes Working Out
The Celtics were really struggling two games ago. They really couldn't seem to get any continuity on either end. Then Doc Rivers put Jason Terry and Brandon Bass into the starting lineup in place of Courtney Lee and Jared Sullinger. It's hard to know if it was because of the lineup changes, but the ball is moving easier and the Celtics are clearly playing with a lot more confidence now. The Celtics opened the first half on fire. The second half wasn't quite as good, but Boston still did enough to win. Every starter scored in double figures, led by Rondo's 20, but it didn't end with the starters. The Celtics got a nice boost from Leandro Barbosa in the first half, and some nice contributions from Jeff Green and Chris Wilcox in the second half. This was as close to a complete team effort as the Celtics have had in quite some time and it looks as if players are finally settling into their roles.
Who Says that Kid Can't Shoot
Teams are still playing Rajon Rondo the same way – they drop below the pick and dare him to take the jumper. It isn't working as well as it used to. When his man drops below the pick this year Rondo is going up with the jumper, and better yet he's knocking it down. Averaging a career high 14.7 points per game not including the 20 he threw in on Monday Rondo just keeps getting harder to guard. He's shooting more, but still finding time to pass, as his find of Bass for a game sealing dunk got him up to 10 assists for the 31st straight game. It was Rondo's night tonight, and apart from a brief lull in the 4th quarter he was in control all night long.
What It Means
The Celtics have been searching for themselves, but they found something in that second half against the Bucks. Who knows what it was, but the Celtics are shooting almost 55 percent in their past five quarters. Every one knows the talent is there for the Celtics this year, but it hasn't yielded immediate results. However the Celtics sure look to be playing a lot more freely than they were at the start of the season. It's hard to point to real reason, but things flowing for the C's now.
What's Next
The Celtics look to move to 5-3 when Al Jefferson and the Utah Jazz visit the TD Garden for a 7:30 tip-off Wednesday Night.
Tags:
Basketball
,
Boston
,
Boston Celtics
,
NBA
,
Rajon Rondo