Story
The Boston Celtics have been playing much better basketball since coach Doc Rivers called them out after an embarrassing loss to the Brooklyn Nets. However the results still aren't quite there. The Celtics have played well enough to win each game since that beating by Brooklyn. Unfortunately their record is just 3-2 in the five games since. The weekend home and home series with the Philadelphia 76ers sadly brought more of the same for the Celtics – they played well enough to win both games, but they came out of the weekend at just 1-1. It was a another weekend where there was more positive than negative, but with the season already a quarter of the way over it's time for the Celtics to stop notching moral victories and start scoring real ones. They crushed the Sixers on Saturday, but wound up with an overtime loss on Friday despite an overall strong effort. Things are coming together, but Celtics fans are getting sick of 1-1 weekends.
Game 1 – Frustrating Loss
Friday night's game in Philadelphia was tight the entire way. Both teams played tough but it was really the ultimate frustrating loss for Boston because they had so many chances to win it. Evan Turner gave Philadelphia the lead 89-87 late in regulation on what was ultimately a broken play. Paul Pierce blocked his initial attempt but the Cs couldn't come up with the loose ball. Kevin Garnett then missed a wide open tip in that would have tied it at 89 with just under 40 seconds to go. KG made up for it by draining a clutch jumper, tying it at 89 with 7.7 left but, after a Turner turnover, Rajon Rondo's would be game winning pull-up bounced off the back rim. Turner gave Philly the lead 95-94 with 3.9 remaining in overtime, but Rondo had a wide open lane to the basket on the final possession. One of Rondo's patented scoop layups would have given Boston a win, but he slipped and ended up airmailing an awkward fall away jump shot. It was an incredibly frustrating loss for the Celtics because of the bevy of missed opportunities. They played very well but just couldn't get out of their own way.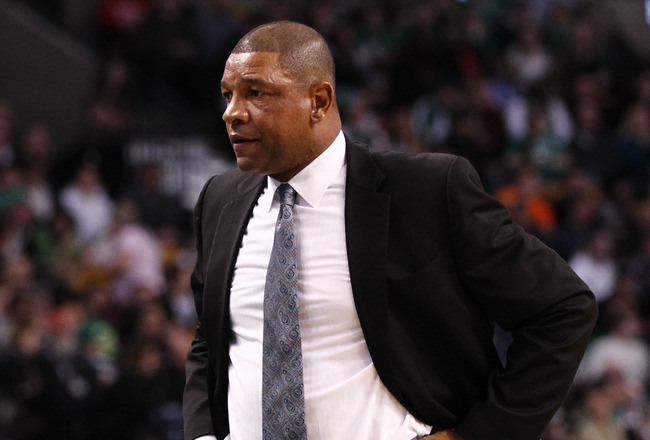 Game 2 – Revenge
The best thing about a home and home is the team that loses the first game gets a chance for revenge the very next day. Boston was clearly very upset by the loss in Philadelphia and they took all their frustration out on the Sixers in first half Saturday night. The Celtics' defense, which has been erratic to say the least this year, was absolutely locked in in the first half. They limited Philadelphia to just 28 points in the first – a season low, which allowed them to build a 48-28 lead by halftime. It was by far their best defensive half of the season. They let up a little in the third quarter, letting Philadelphia put up 29 points in the frame and at one point cut the lead to just eight. However Garnett checked back in late in the frame and restored order, bulking the lead back up to 13 by the end of the third and Philly never really threatened again.
Brief Lapses Really Hurting
When watching the film of game two it is very hard to find fault. In fact, apart from the missed opportunities, it is very hard to find fault in game one no matter how many times one watches it. However a close examination reveals a few brief periods of both games that really cost Boston. Jrue Holliday converted a three point play late in the second quarter of game one, but the Celtics still held a four point lead at the half. However Boston got really sloppy in the third quarter. It was only one play, but that score by Holliday for some reason really threw the Celtics off. They just lost focus and got really sloppy, turning the ball over or settling for bad shots on offense and continually missing assignments on defense. They focused back in late in the third, closing well and trailing by just two enterring the fourth. However a good start to the third quarter could have really created some distance between the two squads and set Boston up for an easy win. The brief loss of focus really hurt.
The same thing happened on Saturday. Luckily this time the Celtics were already ahead by 20, but the offense once again got really stagnant in the third quarter. They started settling for contested jump shots or forcing passes that weren't there. Luckily KG checked back in and restored order before the 20 point lead had completely evaporated, but if a few more shots by Philly had gone down things might have been very different. The Celtics have struggled with consistency this year. They have now gotten to the point where they are at least showing up every night. Now they need to show up for the entire night. Brief stretches like this are often the difference between a win and a loss.
Second Unit Gelling
At this point it is well known that Jeff Green has found his feet in Boston. The Celtic reserve has played excellent in every game since that Brooklyn beat down, scoring in double figures in all but one game and playing with increased aggression. However he isn't the only one. Fans are still complaining about Courtney Lee, but those who just look at his numbers aren't seeing the full picture. Lee has struggled with his shot thus far this year but his defense has been excellent and his shot is starting to go down. He hit a three on Friday in Philadelphia and another on Saturday back in Boston. He is not getting a whole lot of shots but he works very well with Jason Terry, who will be his second unit back-court mate when Avery Bradley returns. Jared Sullinger is also getting the hang of things. His offense is still a work in progress (he was held scoreless on Friday) but he controls the boards better than anyone the Celtics have had in the Kevin Garnett era (9 rebounds in just 22 minutes on Saturday). Meanwhile Chris Wilcox continues to be Chris Wilcox – solid, dependable, and good for a few hustle baskets every game. It hasn't been an easy transition for any of Boston's new acquisitions but they are slowly but surely finding their feet.
What It Means
This was another "glass half full" weekend. The Celtics played well enough to win both games which is great news, however given their strong play it's very frustrating that they only got one win. The Celtics have been playing well ever since Rondo beat up Kris Humphries. It would be very nice if they could start turning some of these moral victories into real ones. The steps in the right direction continue. It is time for the results to catch up.
What's Next
The Celtics get another couple of off days before the Dallas Mavericks visit Boston on Wednesday, December 12. The last time the Mavs were in Boston Dirk Nowitzki beat the Celtics on last second layup. The Celtics get a chance for revenge on Wednesday with tip-off set for 8:00 p.m. from TD Garden.
Tags:
Basketball
,
Boston
,
Boston Celtics
,
Evan Turner
,
Jeff Green
,
Kevin Garnett
,
NBA
,
Philadelphia 76ers